Lavender essential oil is perhaps one of the most popular essential oils. It is well-known for its fresh floral and herbaceous fragrance as well as its ability to help people relax. However, lavender essential oil is also a popular ingredient in Utama Spice products. Learn why lavender essential oil is beneficial for your skincare and which products to incorporate into your skincare routine.
About Lavender Essential Oil
Lavender is a fragrant herb that is native to the Mediterranean region. Lavender essential oil is produced by putting lavender flowers through steam distillation. This process breaks up the flowers, allowing its natural oils to release.
Since the ancient times, people have loved lavender for its sweet scent. It has been used for food/beverages as well as for skincare products such as soaps and moisturizers.
Benefits Of Lavender Essential Oil For The Skin
Lavender essential oil is well-known as a calming oil. It helps the mind and body relax. There are also studies saying that this essential oil helps with the management of symptoms of anxiety. This benefit is good not only for your mental health but also for your skin that is affected by stress levels. Using lavender essential oil through aromatherapy to relax would inevitably have positive effects on your skin as well.
Sleep is another common cause of breakouts. If you have been having trouble sleeping or are too busy to have sufficient sleep, inhaling or diffusing lavender essential oil an hour or two before your bedtime will help you fall asleep faster. Moreover, this essential oil will help you achieve deep, relaxing sleep so you will feel well-rested the next day.
Lavender essential oil is full of antioxidants that can potentially fight free radicals. These free radicals are one of the main causes of fine lines and wrinkles. Using lavender essential oil early could, thus, help prolong the onset of wrinkles. However, using it could also help reduce the appearance of fine lines and wrinkles.
Another benefit of lavender essential oil is its anti-bacterial properties, which has been found to be quite effective against acne. It helps kill the bacteria that causes acne. So, lavender essential oil is useful for both prevention and healing acne.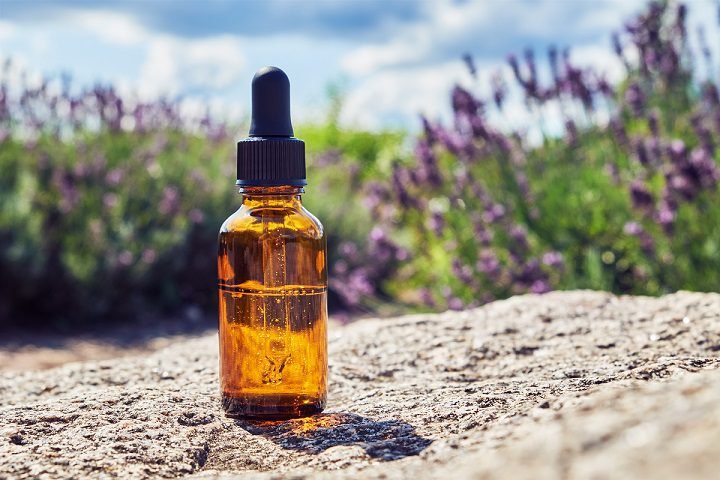 This essential oil is also capable of helping balance the skin's moisture barrier. So, it helps keep the moisture locked in, which prevents your skin from drying up. With regular use, your skin will inevitably become much softer and healthier.
Lightens Hyperpigmentation And Scars
If you struggle with uneven hyperpigmentation or scars from your acne, lavender essential oil is an excellent choice for you. It helps calm and soothe the skin, while its antioxidants promote collagen production to facilitate skin repair. Lavender is a great skincare addition for those who want to lighten pigmentation and scars.
Eczema is a skin condition that worsens when the skin gets dry. It comes with chapped skin, pain, and itchiness. Lavender essential oil's anti-inflammatory and moisturizing effects have been of great help for those with eczema. It helps soothe eczema flare-ups, as well as preventing said flare-ups by keeping the skin moisturized.
In addition to its benefits for the skin, lavender essential oil also has some uses for maintaining hair and scalp health. It promotes faster hair growth, helps prevent or treat itchy scalp and dandruff, as well as prevents head lice.
How To Use Lavender Essential Oil
Essential oils, lavender included, are highly potent. When used directly on the skin, they will cause irritation or allergic reactions. This is why essential oils are always used together with carrier oils. However, if you are buying skincare products with lavender essential oil, you don't have to worry about this since the essential oil will already be mixed with other ingredients. When used in aromatherapy, however, they can be used alone or blended with other essential oils to combine or enhance their benefits.
Best Lavender Essential Oil Products For Your Skin
Now that you know all the benefits of lavender essential oil for your skin, you should know your options for skincare products that have lavender essential oil. Here are our recommendations:
This body soap will effectively clean your body without stripping the skin of its natural hydration. You will also be able to relax well while taking a shower or bath with this body soap.
It's difficult to find a facial wash that will remove all dirt and grime without stripping the skin of its natural oils, but the search is over. This facial wash is made to help prevent acne. It contains only natural ingredients, including lavender essential oil.
This natural face serum is made for all skin types. It helps moisturize and restore your skin's natural health. Lavender essential oil is one of the key ingredients of this great serum.
This treatment oil is meant to be used topically on pimples and acne scars that you want to lighten. Along with tea tree oil, this treatment oil works well against acne because of Lavender essential oil.
This hydrating spray is meant to refresh the skin and revitalize your senses. The Lavender Fields Body Mist contains lavender essential oil, which will help you combat stress. It will also surely leave you smelling fresh.
Lavender essential oil is mixed with virgin coconut oil to hydrate and repair damaged hair.
This cocoa butter is not only scented with lavender. It contains lavender essential oil, so you can enjoy its moisturizing and relaxing properties.
Coconut oil on its own offers numerous benefits for the skin. Combined with lavender oil, you are in for deep moisturizing.
Enhance the relaxing effects of a massage with this lavender-scented body oil.